Years ago my husband and I were visiting my grandfather one evening. We had dinner with him and his friend Bob at their retirement community dining room. After dinner we went back to his apartment to chat. At some point during the visit, my grandfather went to his drawer and brought out my grandmother's button box. Her buttons were in a beautiful old-fashioned tin decorated with Scandinavian imagery. Bob left and returned soon after to bring me his wife, Audrey's button box as well. She had passed away some years before. Wow! I had been given not one, but two beautiful pieces of history!
I have looked through the boxes many times over the years. The other day I got the button boxes out to share them with my daughter for the first time. She had a wonderful time sorting, matching, and discovering all of their treasures.
My grandmother, Barbara's, button box on the left. Audrey's on the right. She can hardly wait!
I love the designs on the tin, and the "Joy" on the other box is so cheery and fun.
Here we are digging into the boxes...
Open up!
Each box contains so many fun things. Audrey's box has lots of buttons still attached to their original cards. Awesome! I love the six black faceted buttons on one card for 29 cents! 29 cents - imagine that! Look closely and you can see an applique "H," a pair of yellow earrings with screw backs, tiny seed pearls, and even a marble. My favorite button is the blue button with white accents (it is around the middle on the left side of the picture). It reminds me of Wedgewood china. Which is your favorite?
Here are some of the amazing finds in Audry's button box.
Chloe had lots of fun sorting! She was a great helper!
We had some fun with some of the buttons from my grandmother's box. We took out some of the most unique and colorful buttons and arranged them into a sort-of spectrum pattern. I love it! What do you think?
Shot #1 Click to enlarge ~ It is AWESOME!
Do you see the large brass button on the left-hand side? Come back Friday to see how I used it!
Shot #2 Click to enlarge ~ It is AWESOME!
I must admit that I had Chloe run out to get her toys to "see" our creation so that I could get these shots without her hand in them! :) We played together for over an hour in all of the buttons. It was so much fun! Go dig in your button box and see what you find!
I would love it if you would become a follower both here and on Facebook! You can find the buttons on my sidebar!
I am linking up to these and other great link parties. You can find a complete list by clicking
here
or on my Linky Parties button on my header.
Thanks for visiting!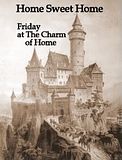 Vintage Thingie Thursday

border="0"/>