What do you make in a hurry? We all have them. The nights when the chicken is almost past its prime, when you need to eat quickly, when you have an extra jar of salsa hanging around in pantry. What? You don't always have an extra jar of salsa hanging around in your pantry? My mistake - after trying this recipe you will want to. :)
Here is a
FAST
and
EASY
recipe perfect for a yummy meal on an evening when time is short. I call it...
To make this you need:
Chicken breasts - as many as you can fit in your pan and/or as many as you need
salsa, 12 oz. - any type you like, bottle, jar, container, whatever
salt
pepper
olive oil - or whatever oil you like to use
That's it.
Here is how you make Salsa Chicken.
Dry the chicken breasts with paper towels. (This helps with the browning.) Season the chicken breasts with salt and pepper.
Heat the oil in a frying pan until shimmering. Brown the chicken breasts on both sides.
Turn down the heat to medium low, add the salsa, cover, and simmer until the chicken breasts are cooked through (about 10 minutes).
add the salsa
cover the pan
lower the heat to medium-low
Here is the finished pan! Can't you just smell it? No? What? Why not? Oh, yeah right. Silly me. Trust me, it smells delicious!
Mmmmmmmmmmm.....
Enjoy!
Salsa chicken, steamed green beans, and tatertots (yup! tatertots)
Come over and "Like" the Greetings From the Asylum page on Facebook. You can click the button on my sidebar.
I am linking up these and other great link parties. To see a full list click
here
or the Linky Party page underneath the header.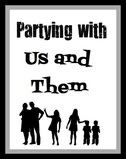 Thanks for visiting!